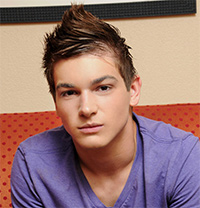 Johnny Rapid must be the most popular young porn star
in the industry today. He is young and fresh-faced, most likely due to all that cum that has been spurted over his cute face since he began doing porn. Johnny is the naughty man of porn at the moment since he took the title away from Jarec Wentworth. Johnny has even got himself into a lot of newspaper articles over the years, from stories about hitting his girlfriend (yes, believe it or not, he is straight), to offering Justin Bieber 2 million dollars to star in a porn movie with him. There have been lots of things written about Johnny which you can find on the internet which includes a list of 'The hundred men to have fucked Johnny Rapid', although in reality, he has more than likely been fucked by double those figures.
Johnny has a great
Twitter page where he has over 46K followers
jerking off to his photos and some clips from some of the hardcore porn he does. In fact, there is a great video on his site, which has been newly put up, where we see him naked on a table, and some lucky man is massaging his lean smooth body all over and stroking his oiled up, circumcised, seven-and-a-half-inch dick, and playing with his large balls, which are churning up with scolding hot spunk.
Although Johnny has starred for major porn companies
, including doing some bareback riding, he is now an all exclusive star to MEN where he's starred in 159 hardcore movies since he started with them back in 2011. You can see him with Tyler St. James in 'Tyler St. James And Johnny' which has been viewed by over 69 thousand of us horny men jerking on our cocks as his super tight ass gets the fucking of his life. He ends up getting thick white cum splattered all over his slutty young body.
His first two movies were so popular
, that by the time his third movie with MEN was released just one month later, over 168,000 viewers watched him getting fucked in a great prison fantasy 'Prison Shower', here he was drilled by Rafael Alencar with his enormous eleven-and-a-half-inch dick.
Johnny has sent many men wild
with lust with his smooth body, short brown hair, brown eyes and delicious tasting asshole. He is a versatile young slut and here is a small list of just some of the many men we have seen him having sex with over the last couple or so years:
Adam Bryant, Pride Atlanta and Stop in
Aspen, Dick Barber, Son Of A Preacher Man Part 3
Billy Santoro Father figure, Houseboy Part 2 and Stealth Fuckers 5
Colby Jansen, Prison Shower 3, Football Fuckdown 3, and a few others.
Colby Keller, Pervy Professor
Dennis West, Johnny Goes Bareback Part 1 and 5
Jack Radley, My Neighbours Son Part 4
And the list goes on, so if you want to see more of your favourite porn star, Johnny, join MEN and watch him until your cock drops off because you have worn it out.